Last night's Jazz Salon in Thornblade exceeded our expectations in every way! LaRue Wait's home is gorgeous yet comfortable, and you'd think it was built for music, the acoustics were so amazing!  In fact, as the sound wafted through the two entrances to the kitchen and breakfast nook, it separated and became stereophonic.  LaRue is also a fabulous cook and had an array of delicious appetizers.  
And the crowd!  Well, just imagine playing the music you most love to people who really love it too, and are so hungry to hear it. We had originally planned to cap it off at 30, but there was so much interest, we found a way to accommodate a few more and got to 37.  It was an interesting mix of friends and family on my side and LaRue's.  Everyone knew someone, everyone met someone new, which I think is perfect!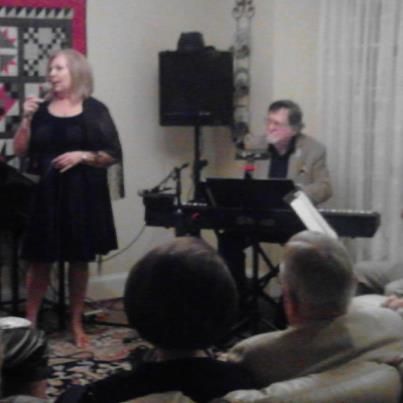 Thank you, LaRue, for being a fabulous hostess. 
Thank you, Donna Kay Smith and Lynn Calvert Halpin, for your organizational skills.  You two were a good team.  
Thank you, Dale Burke and Joe Di Prima, for your expert musicianship.  You're always a pleasure.  
Thank you to all who came to support the jazz salon.  
If you're interested in hosting a jazz salon, please contact me at jazzdiva2@gmail.com.  It could be in your home or in a private room in a restaurant, and is an elegant way to entertain friends, clients, and employees during the holidays.  
SPREAD THE JAZZ!
Jean